Protocol signed between Romania and China stormed visits from Asians. If initially seemed interested in importing beef, pork and mutton, now the Chinese are willing to buy all farms and dairies from Romania.
One Farm with two thousand cows from Tiganesti, Teleorman had unusual guests. The Chinese wanted to see how animals are bred and how productive they are. But also how good is

fodder

. Until March the Chinese will already conclude contracts.
Most of them was attracted the greatest invention a cow brush as no saw Beijing.
This is just one of dozens of farms visited by the Chinese. Several delegates were this week across the country. Asians want to buy both the farm and lands in the area, which will raise a few plants milk powder for export.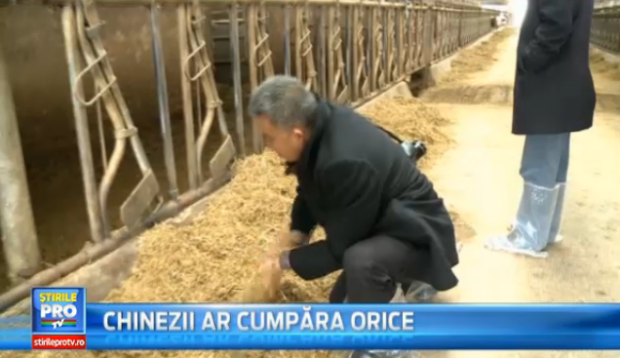 Chinese farmers in Romania
" We believe that in Romania there are many opportunities and we can go together. Romania has many advantages to doing business with China " said Edward Zhang, a Chinese businessman.
Reporter: Tough Chinese?
Ionut Badea, a representative dairy farm: Very tough.
Reporter: The Cows do you want to sell them?
Ionut Badea: No are no yet for sell. They said they want to make a milk powder factory in Romania."
Deng Jiuqiang is a prominent Chinese businessman and politician. He owns a farm of 250 000 cows and visit the Ministry of Agriculture in Romania and has appeared with a tie with cows.
"We want to establish a complete platform, from breeding to sale," said the Chinese businessman.
Dorin Cojocaru , president Romanians Dairy Industry Manufacturers Association, said:
" Reckoning the plan made in China did not match than plans find in Romania. The Romanian consulting proposed a Greenfield to Chinese. Would be to take a few dozen hectares land for the construction of farms and other thousands hectares for feeds."
Negotiations continue. In parallel, not only the Chinese are interested in investing in this sector. Lately have shown interest and businessmen from Azerbaijan and Kuwait.